Looking for a summer job, or something more intensive? Feeling the weight of getting that first job on your shoulders? Do you wish there were jobs that paid more than the Federal minimum wage?
You're in luck — there's a range of high paying jobs for teens out there. While research shows that teens are working less over the summer, we encourage teens to get a job to up their chances of a great career. There are even great online jobs for teens that you can look into as well.
Having good work and people skills is important, whether you are looking to attend college or go to trade school. So check out the jobs below and get your job search started!
Please note the pay and age requirements may vary based on your specific location! Each state and municipality can have their own specific requirements.
High Paying Jobs For Teenagers
Before we jump into some high paying jobs for teenagers, let's talk about two key terms: mean and median. The mean refers to the average of the data, and is greatly affected by outliers, or extreme values. Comparatively, the median is the middle value of a dataset ordered from least to greatest.

As a whole, the median better represents the values of the data since it is not so heavily affected by outliers.
Related: How to drop out of high school (and why we do not recommend it!)
Unfortunately, accurate median data isn't always reported, so averages are used instead. So don't forget — just because average pay is lower or higher than you expected, that doesn't mean that's the wage most employees receive!
All that being said, let's take a look at some of the highest paying jobs for teenagers. First, you should know the federal minimum wage is currently only $7.25 per hour. But, many states have their own laws that make the minimum wage higher, so you should definitely see what the minimum wage is in your state to ensure you get paid fairly.
Animal Care
Animal care workers have a median hourly pay of $13.81. These positions often want older teens, with the reasoning behind this being that they're more mature and better able to understand the potential risks of working with animals. So, some stables, kennels, or shelters may ask for a high school diploma — though not always! In any case, there's always a period of on-the-job training to familiarize you with the ins and outs of animal care.
The animal care industry always needs help. From donations to volunteers to workers, shelters nationwide would love to have you, and if you love to work with animals, this could very well be one of the best teen jobs for you.
As the name implies, animal care workers work with animals. Whether that takes place in a stable, kennel, shelter, or beyond is up to where you apply. You could also work independently as a local dog walker — where you could charge your own rates — or under certification agencies like the National Association of Professional Pet Sitters or Pet Sitters International.
Of course, such agencies charge fees for their courses, so if you're looking to start small, be sure to poke around local shelters, or look into the local dog-walking scene. In either case, your best bet is to be sociable and understanding — you'll be working as part of a team, and dealing with a number of animals, all having very different personalities.
You also shouldn't mind getting down and a bit dirty. Many shelters, for example, are in desperate need of cage cleaners and housekeeping, so don't be afraid of some grime!
Apprentice Automotive Technician
Unfortunately, this career track has its downsides — namely, time. Highschool teens aren't prime targets for automotive techs, but getting in touch with a local shop to be a general helper, housekeeper, tool-runner, or even just an observer is a fantastic idea for anyone interested in automotive repair.
This job's included on this list for its proximity to the trades, and the fact that if you want to go into the automotive field, it's best to start early! There are plenty of options for auto mechanics coming out of high school, and a position as an automotive tech is not only a job, but a solid commitment to the field.
One of the highest-paying jobs out there, automotive technicians' median hourly wage comes out to $22.54 — far above minimum wage. There's a slew of postsecondary programs and apprenticeships out there (be sure to check out the rest of this site!), just as there's automotive courses for highschoolers to get their hands on the trade. If this job interests you in the future, be sure to ask around local auto shops — and take a peek into the certifications required by your state, local apprenticeships available, and more general requirements of the role.
Depending on the shop, the environment of this job varies greatly. Some techs work at automotive dealers, while others are self-employed or at parts or tire stores.
Automotive techs stand for most of the day — walking, kneeling, and twisting to get at all the spaces they need to work on. Again, as a high school student, you wouldn't be a formal tech — but you'd definitely still be standing!
As a high school student, you'll probably be hired as a housekeeper or for general duties like organizing tools, helping more senior technicians, or doing basic paperwork like filing repair orders. This might keep you on the shop floor where the action happens, or in a more of a secluded setting like an office or a lobby.
As a whole, you need to be attentive to detail, and have at least basic skill with mechanics and troubleshooting. You should be able to lift and carry a fair amount of weight, and be dextrous enough to reach into any nooks and crannies of a car.
Babysitter
Another example of a job where you might set your own rates, babysitting sees an average pay in the range of $14 to $16 per hour. Data from Ziprecruiter shows how this average changes per state — which is perfectly reasonable! Take a good look at affordable babysitters in your area if you're interested in doing freelance work, and base your rates off of those. If you've got prior experience as a camp counselor or otherwise, you might be able to charge a little more than babysitters new to the role.
Otherwise, an agency may be up your alley. Agencies help to build references and a more professional network, while also removing all the stress inherent to marketing yourself at all hours. However, remember that convenience often costs. Working with an agency means that you have to pay them fees for their efforts, although they'll definitely help in securing you a job.
To be a babysitter, above all else, you have to be good with children. That's a natural necessity of the job — incidentally, you also have to be good with parents, as they're the ones employing you. So, keep your social skills sharp and make yourself personable.
You should also be on top of marketing yourself and your skills, if you choose to be a freelance babysitter. Be confident and be sure to only work with clients who don't abuse your time or kindness; this may make your pay less reliable, but I'd personally say that money isn't worth the time of people who would take advantage of you.
Altogether, babysitting is a job where the environment's always changing. No two parents are alike, just as no two children are, so adaptation is key. If you're into a more of a regular schedule, look into similar jobs, like being daycare assistant or a camp counselor.
Barista
There is never enough barista's, so this is a job that you should be able to get with out much difficulty. Barista's make a variety of hot and cold beverages for customers so it is definitely a creative job! You must have great customer service skills and the ability to read basic recipes to ensure you make the drinks to standards.
At Starbuck's you might start at about $13 per hour, although some areas may be higher or lower. The hours will be flexible, but you do need to be at least 16 years of age. Your local coffee shop may allow you to be younger, so definitely try there as well.
Caddy
Caddies make a surprisingly variable amount of money. The average seems to fall around $19 an hour as reported by Ziprecruiter, although there's an apparent median of $12.02. Although not one of the most obvious high paying jobs, there's the benefit of tips — though not technically necessary, a large number of golfers will tip their caddies for good service.
No formal education is required by this job, making it perfect for high school students, though you should definitely be well-versed in golf before attending the training sessions. If you're interested, look into local country clubs, golf clubs, and more general golf organizations alike!
Being out on a golf course, caddies are exposed to whatever weather's at hand. You're expected to readily answer any questions they may have about the sport, course, or club. The big opportunity for tips also implies a natural charisma and sociability, alongside a willingness to go out of your way to be friendly with strangers.
Caddying is also a fantastic permanent part-time or summer job! Many golf courses stay open throughout the year, so be sure to keep track of the timeframe for local clubs if you're interested in the position.
Weekend work is also common, given that most golfers play on weekends. So, you'll probably be expected to be up and at work in timely manner in the mornings if you want to be a caddy.
Camp Counselor
As a camp counselor you will have a lot of responsibility, and of course must love working with kids. Your days will be spent mostly outdoors where you may do everything from arts and crafts to swimming. You will help maintain order with the campers and help them move throughout the day to ensure they are where they are supposed to be! Most importantly, you will need to make sure they stay safe and follow all assigned camper rules.
Rates of pay vary greatly for cam counselors because of the many different types of camps that exist. A local sports camp may pay much less than a sleep away camp in another state for example. At overnight camps, the pay will be a bit different as well since room and board are usually included. Average pay is about $12 per hour, but there are so many additional benefits as well.

While most camp counselors may be 15 years or older, there are opportunities for junior camp counselors in some areas. These may be available for kids as young as 7th grade – but the pay is much less, if there is any at all.
Cashier
With a median hourly pay of $13.11, cashiering is one of the best jobs for teens in retail. It's also a pretty traditional job and one that many teens start their working experience with. There's a short period of on-the-job training and no formal education required, though basic mathematics and the ability to make change and count money is a must.
Cashiering is considered an entry-level position in the workforce making it perfect for high school students. Though paid less than other team members, retail is a vast industry — and there's opportunity for upwards movement to retail sales associates, first-line managers, and beyond! A retail sales associate moves around from behind the counter, helping customers to find items or taking the time to stock shelves. In any case, cashiers are always in demand, and cashiering as a whole remains one of the best jobs for teens.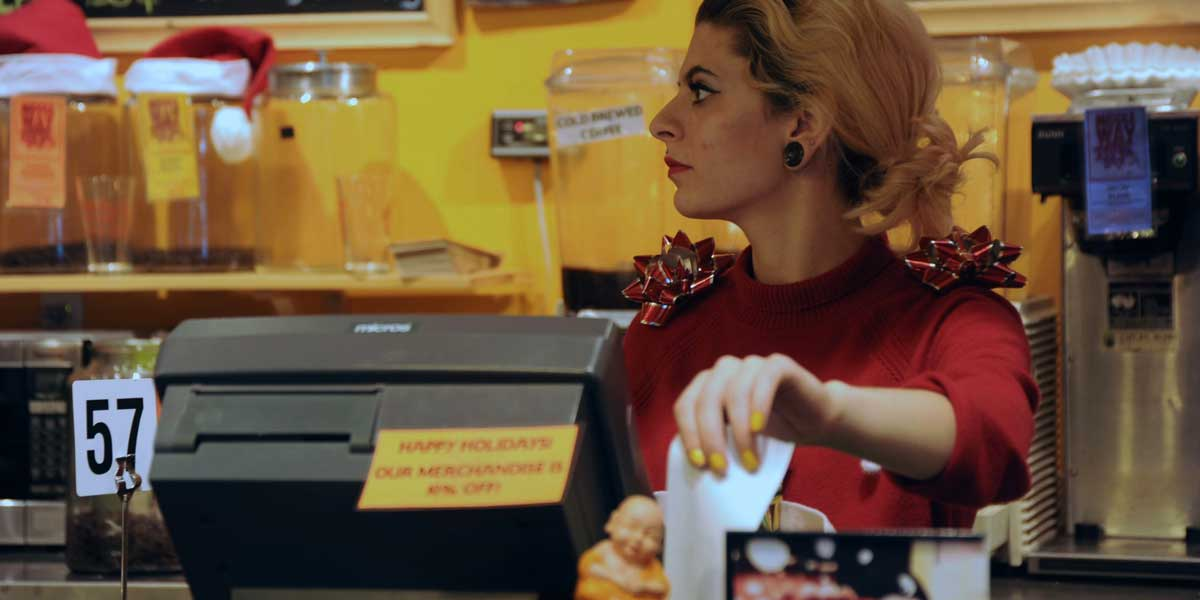 Typically, the cashier's environment is fast-paced and always moving, but repetitive. As opposed to other retail workers, cashiers stay at the checkout. You'll be expected to process payments and make change, the classic cashier's primary duty.
Hours vary greatly from site to site, and at places like gas stations or some grocery stores, overnight shifts may be a possibility. Part-time work is also common in jobs for teens, and for cashiers especially, so be sure to have a flexible schedule or find a flexible boss if you're interested in cashiering.
For cashiers, communication and customer service skills are a must. Brush up on your basic interpersonal skills, and know that patience is key with customers, as is a generally pleasant disposition and the stamina to stay on your feet for the duration of a shift. This holds true with all retail positions — like the aforementioned sales associate — so if you choose to go into retail, be sure to keep it in mind.
Grounds Keeper
Physical labor is both demanding and rewarding. Landscape laborers make a median hourly pay of $17.05, in positions that require on-the-job training and no formal education. All things considered, this is one of the best high paying jobs available for teens.

States generally require certifications for the application of fertilizers or the application of pesticides, but landscape labor works far beyond that scope. Further certifications may also demonstrate a level of competency and skill if you're looking to pursue greater opportunity in the field —  like certifications from the National Association of Landscape Professionals, or even the Tree Care Industry Association.

But, as a teen you can do jobs like lawn mowing, weed pulling, stone work, and more. If you have a passion for horticulture this is a great way to get started.
Physical labor is physically demanding, and lawn labor is no exception. They work outdoors, so the sights, sounds, and job sites may always be changing, but they also work in almost every kind of weather, and in every kind of heat or cold.
The work can be repetitive and severely physically demanding — from simple walking, bending, and measuring to the primary duties of lifting, shoveling, and beyond. Grounds maintenance can also be dangerous, with lawnmowers and chainsaws requiring protective equipment.
Tree trimming and pruning, though certainly a thrill, is even more dangerous. Protective gear is always required here — and though dangerous, falls from heights are rarely lethal, and certainly more rewarding than desk jobs for those so inclined.
Such jobs are also seasonal, although different expectations for work may crop up throughout the year. For example, spring, summer, and fall traditionally require the most pruning and mowing, whereas winter necessitates snow removal or the installation of holiday decor.
Definitely weigh the risks and benefits before applying for this job, but know that it's one of the highest paying jobs for teens there is.
Lifeguard
The average hourly pay of a lifeguard falls in the $13.38 to $14.28 range, according to sites like Talent and Indeed, though the Economic Research Institute reports pay as high as $17 per hour — definitely one of the higher paying jobs out there.
Lifeguards also have the distinction of being one of the best summer jobs for those that love the outdoors. Of course your location will determine the amount of jobs available for lifeguards. As an example, states like Florida will have more opportunities than let's say Montana. To formally apply, you also need a Red Cross Certification, and be sure to look into any necessary county or state certifications you may need, too.
Naturally, lifeguards hang by the water. Whether at a swim club, the ocean, or any kind of public pool, work as a lifeguard will keep you busy. On top of the certifications you may need, you'll need to be a good swimmer and physically fit enough to deal with the possibility of a drowning situation.
On top of the Red Cross training, you may also have to attend location-specific first aid practices, or social skills trainings for camp counselors if you work at a summer camp. Lifeguards also typically enforce the waterside rules — like the age old "no running by the pool!" — and keep an eye out for anyone in danger or need of help. Communication skills and the ability to deal with the general public are a must.

Personally, I'd recommend a good dose of patience to boot!
Movie Usher
Movie ushers in many locations can start as young as 14 years of age. This is one of the lower paying jobs, but can offer younger teens a great start to getting into the workforce. And $8.50 or so is not horrible for a 14 year old! There is also the opportunity to earn more by moving up, so working at the theater for a length of time can bring those higher hourly earnings.

Movie ushers will take customer tickets, help them find their movie theater, and answer any other general questions. YOu may also do some minor cleaning to help keep the theater free from garbage.
Postal Service Worker
The highest paying job on this list, postal service workers have a median pay of $24.84, but are listed dead last on our list.
Why's that?
Well, there's a short period of on the job training, but there's some strict rules for applications. To take the preliminary written exam, you have to be either 18 years old, or 16 years old with a high school diploma. Beyond that, you must have a safe driving record and a passing grade on a relevant road test if you're driving, and pass the physical exam for lifting and carrying, a criminal background check, and a drug test.
Other similar postal service jobs — such as package sorters or clerk positions — carry decent pay with them. Be sure to check out more on the government's Occupational Outlook Handbook if you're curious for more!

While this may not be what we would consider a traditional teen job, becoming a mailman or any type of postal worker is a great path to take for those ready to get into a career.
Postal service work is generally repetitive, consisting of tasks like lifting, sorting, carrying, and organizing as a whole. Mail carriers work predominantly outdoors, and although they have to brave the weather, the job itself isn't particularly dangerous.
Server
One of the other top jobs for teens is serving. With a median hourly wage of $12.50, serving relies strongly on tips for money. Nevertheless, serving is a solid choice for teen jobs — there's a constant demand, especially come summer.
With no formal education requirements and a brief training period, serving is also a job that rarely requires experience, allowing you to jump right into a growing industry.
Servers and by extension, hosts, must greet customers, take meal orders, and provide a generally cheerful or content disposition. Most restaurants have busy hours and slow hours, so the environment may vary greatly even on a single day. Part time jobs are common, although this job may require you to work holidays, weekends, or late shifts depending on the establishment.
Sociability and physician health are critical for servers, as the job requires you to interact readily with customers, carry any number of dishes and silverware, and stand for extended periods of time.
Tutor
Tutors make an average hourly wage of $20, though pay typically falls in the $17 to $23 range. Generally, tutoring is considered a high paying job — especially for freelance tutors, who determine their own rates. Otherwise, tutoring agencies like Kumon pay hourly wages closer to the expected minimum wage, usually $10 to $12 dollars an hour.
Naturally, charging your own rates also comes down to your comfort levels. If you're strong in math, reading, science, or any base courses, you're better suited to marketing yourself more professionally — and charging a little more for your services. Though be sure not to overcharge! Your rates should be reflective of your skills and ability; be sure to look into the median hourly wage of freelance tutors to get a grip on how much to ask as payment.
Tutoring is not only one of the best paying jobs for teens, also one of the best summer jobs, giving the timing of the school year. For students looking to get ahead of the curve, tutors are usually a summertime must.
Usually, tutors meet with their clients at home, in libraries, or even in coffee shops or cafes. There's no formal job sites, though tutors are always going to be heavily interacting with people, given their role as a teacher.
Keystone qualities of any tutor are the ability to communicate and understand. No one learns the same way, so you need to be able to take big ideas and distill them down into more manageable pieces. You also need to be personable and sociable — if you have a favorite teacher, try mimicking them!
If you're a freelance tutor, be sure to stay reliable as well. Make sure your reputation as a tutor precedes you, and that you're known for being helpful, understanding, and respectable — and for charging reasonable rates.
Web Developer
If you are a teen who is not afraid to get out there and make things happen you can make quite a bit as a web developer. If you are skilled, understand code, and have an eye for design – this is a no brainer for you. But remember, you will be responsible for providing great customer service – and are helping someone with their business too. So you should be sure you have the skills needed to help them succeed!

Places like Fiverr or Upwork are great ways to kickstart you web developer career. You can also hit up friends and family to see if you can do some test websites for them. Web Developers can make a lot of money if they are good! As a teen you should charge a rate that meets the quality you provide. But making $25 per hour or more is not too hard to get.
This one also makes it to our fun jobs that pay well list. I have done this for over 15 years and have been able to make over 6-figures and love what I do!
Youth Sports Referee
Easily one of the most complex teen jobs on this list, youth sports referee is the perfect job for a sports-loving teen. Sites like Talent report an average hourly pay of around $13, but this isn't always the case thanks to the variety of sports referee positions available.
Data from Indeed further breaks down the averages, reporting a total average hourly pay of $16.26. From there, youth and young adult league referees average about $13.62 an hour, adult and children indoor soccer league referees average about $15.79 an hour, and amateur league referees average as high as $20 to $40 an hour.
There's also pay scales for per-game earnings; in other words, referees are also usually paid per game for local clubs and schools. If you're interested, this information is usually town or district specific, so be sure to keep an eye out!
Keep in mind that these higher wages usually demand higher levels of experience to match. Becoming a youth sports referee is a process, though once you're accepted, you can referee at any games of your certification.
For example, check out what it takes to be a soccer referee. Other sports require totally different certifications — and unfortunately there's pretty big differences between every state. Nevertheless, there's a fantastic map over at Become a Referee and more information to your taste at Jobs for Teens HQ.
Depending on your employer and the game at hand, referees can be indoors or outdoors at various times of day. Weekend games are likely, given the schedules of youth and adult games alike. In any case, you'd have to put on the classic striped-shirt uniform and stick around for the whole of the game.
To be a referee, you've got to be physically healthy and knowledgeable about all aspects of the game. Beyond that, you need to be able to project your voice and certainly take criticism — whether it be from players or onlookers alike — so make sure to bring your patience and social skills!
Final Thoughts
Getting your first job can be scary and overwhelming! Talk to your parents, counselors, or close family friends to get the support and encouragement you may need. The thrill of the first job and the life skills you learn from it will offer you so much in terms of confidence so get out there and make amazing things happen!
Best of luck out there!